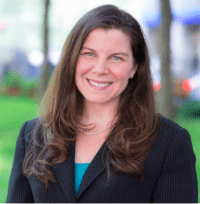 Stacy Francis, CFP
President & CEO, Francis Financial, Inc.
Stacy Francis is the President and CEO of Francis Financial, Inc., a fee-only boutique Wealth Management, Financial Planning, and Divorce Financial Planning firm dedicated to providing ongoing comprehensive advice for high-achieving women and couples in transition.
Stacy joins us with over 18 years of experience in the financial industry and is a nationally-recognized financial expert. AdvisoryHQ lists Francis Financial as one of the Top 10 Best Financial Advisors in New York. 
Stacy is also the founder of Savvy Ladies™, a nonprofit organization that educates and empowers women to take control of their finances. Savvy Ladies has helped over 12,000 women through free one-on-one financial counseling, workshops, and retreats.
In 2013, Stacy received The Heart of Financial Planning Award from the Financial Planning Association (FPA), was honored with Financial Planning Magazine's Pro Bono Award, and was listed as a national Money Hero by CNN Money Magazine.
In 2014, Stacy received the SMART CEO BRAVA AWARD, the Women's Choice Award for one of the best financial firms for women, and was recognized by Medical Economics Magazine as one of the Best Financial Advisors for Doctors.
Stacy is one of the nation's 20 leading wealth managers on CNBC's Digital Financial Advisor Council and she frequently appears in media outlets such as CNN, PBS, The Wall Street Journal, and USA Today.
Stacy attended the New York University Center for Finance Law and Taxation where she completed the Certified Financial Planner (CFP®) designation. Stacy is also a Certified Divorce Financial Analyst (CDFA™) as well as a Certified Estate and Trust Specialist (CES™). She is the Director of the Association of Divorce Financial Planners' (ADFP) Greater New York Metro Chapter and a member of the Women Presidents' Organization (WPO).