Johanna Wise, CEO of Connect•Work•Thrive,
discusses the company's mission and the strength of its career transformation community.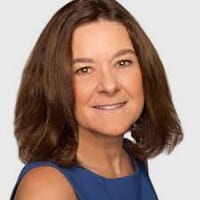 Johanna Wise, MBA
CEO, Connect•Work•Thrive™ LLC
Johanna holds an MBA from the Graduate School of Business at Stanford University, a BS in Applied Mathematics from Yale University, and a Certificate in Small Business Management from New York University's Stern School of Business. Johanna was born and raised in New York City and is a proud graduate of Hunter College High School.
Johanna's career includes:
Management Consulting at Bain & Company in Boston, MA
and Strategic Decisions Group in Menlo Park, CA,
Mergers and Acquisitions and Financial Analysis at Goldman Sachs
and Lehman Brothers in New York City
Brand Management at Frito-Lay in Dallas, TX.
She has served on Boards of Directors including M&G Piel Securities, Illumai, Western Ballet, Stanford Women on Boards, The Junior League of Palo Alto • Mid Peninsula, and Lyceum of Santa Clara County. Johanna is a founding Council member of YaleWomen: a Global Network of Yale Alumnae, and was recognized by the Yale Board of Trustees for her exemplary service as President of the Yale Club of Silicon Valley.
Johanna curates and hosts highly successful conferences including Find Work You Love™ Conferences, The Workforce Diversity Summit™ at Microsoft, and local and national celebrations of 40 Years of Women at Yale. She also serves as a contributing writer at Forbes and the Huffington Post.
Johanna uses her extensive experience in business to inform her unique approach to business coaching, where she emphasizes the importance of an effective leadership style coupled with clear and compelling communication.
Johanna has worked with clients from solo entrepreneurs and start-up executives to top corporate executives. In every case, she instills confidence and inspires growth in each and every individual.
After a career sabbatical to raise two children, Johanna founded two companies in addition to Connect•Work•Thrive™ LLC: Keep Me Tax Free™ LLC, which secures tax-exempt status for non-profit organizations and Wise Consulting, a boutique firm which provides strategic planning, operations, marketing, and financial expertise to growing businesses.