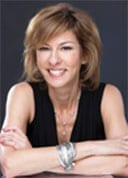 Karen Bigman, MBA
Founder, The Divorcierge
Director of Marketing, Connect•Work•Thrive™ LLC

Karen Bigman is a Life Transition Coach specializing in divorce, a Martha Beck Trained Life Coach, and a CDC Certified Divorce Coach®.
Understanding complex issues relating to the divorce process and what happens when the dust finally settles, Karen is easily able to empathize with others and looks forward to sharing her vast knowledge and skills with her clients.
In addition to her professional training, Karen's success as a divorce coach emanates from navigating her way through the dissolution of her marriage and the process of rebuilding afterward.
The proud mom of two happy and well-adjusted young adults and an eight year-old Havanese, Karen makes her home in New York City.
Karen holds her B.S.B.A. from Boston University and her M.B.A. from Columbia Business School. Karen also completed Harvard Business School's Executive Education Program, "A New Path: Setting New Directions."