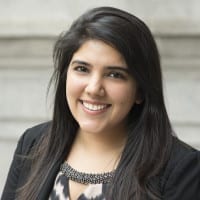 Sunaina Mehra
Head of Marketing and Client Relations, Francis Financial
Sunaina is the head of marketing and client relations at Francis Financial. She is passionate about making sure the firm's brand and vision are developed and executed in a way that best serves their clients.
Sunaina leads Francis Financial's marketing efforts to maintain top-quality and frequent communication with clients, referral partners, and potential clients through events, partnerships, media outreach, speaking engagements, business strategy and educational programming. Sunaina also supports Francis Financial's hiring team and interviews and reviews resumes for candidates in order to acquire the best talent.
Sunaina is an active member of her community and is passionate about giving back to those in need. She serves on the board of the American India Foundation for New York Young Professionals (AIF NYYP), a charity that accelerates social and economic change in India by raising funds and spreading awareness in the United States.
Before joining Francis Financial, Sunaina gained experience in the marketing industry through various internships in Los Angeles, California, and Washington DC, and at Legacy Entertainment and Global Drug Development Experts where she acted as a production and marketing coordinator.
Sunaina graduated from The Pennsylvania State University where she earned degrees in International Politics, International Relations, and Business Administration.